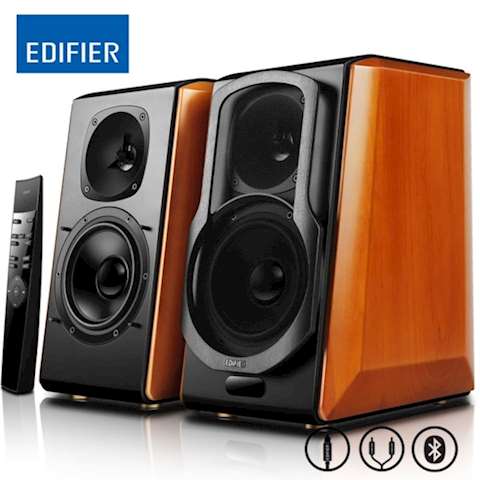 გასადიდებლად გადაატარეთ მაუსი სურათს
დინამიკი Edifier S2000 Pro Active 2.0 Monitor Speakers 124 W Bluetooth Optical Coaxial 3.5mm AUX
პროდუქტის კოდი: S2000PRO
მწარმოებლის კოდი: S2000PRO
მწარმოებელი:  Edifier
რაოდენობა: 3 ერთეული

HiFi Classic Concepts Cutting Edge Technology
For the first time, Edifier has brought cutting edge sound technology to a classic style. Edifier's S2000Pro pays tribute of the speakers from the past with the elegant side wood panelling. These speakers elevate the classic style of bookshelf speakers to the next level of sound with modern sensibilities and advancements.

Professionalism, Elegance, Luxury
Matte black paint with luxurious wood baffle plate, metallic surface grill, and gold pads underneath. S2000Pro exudes elegance and demands to be the centre of attention with both its style and sound.
Thick Wood Side Panels
The S2000Pro have 18mm thick wood side panels reducing the resonance and highlighting aspects of audio design you have never heard before. Wood processing is a time-consuming process. For us to achieve the 18mm flat plate, you need to start from a much thicker sheet of wood. After multiple polishing and smoothing treatments, the final product is made and it is glorious.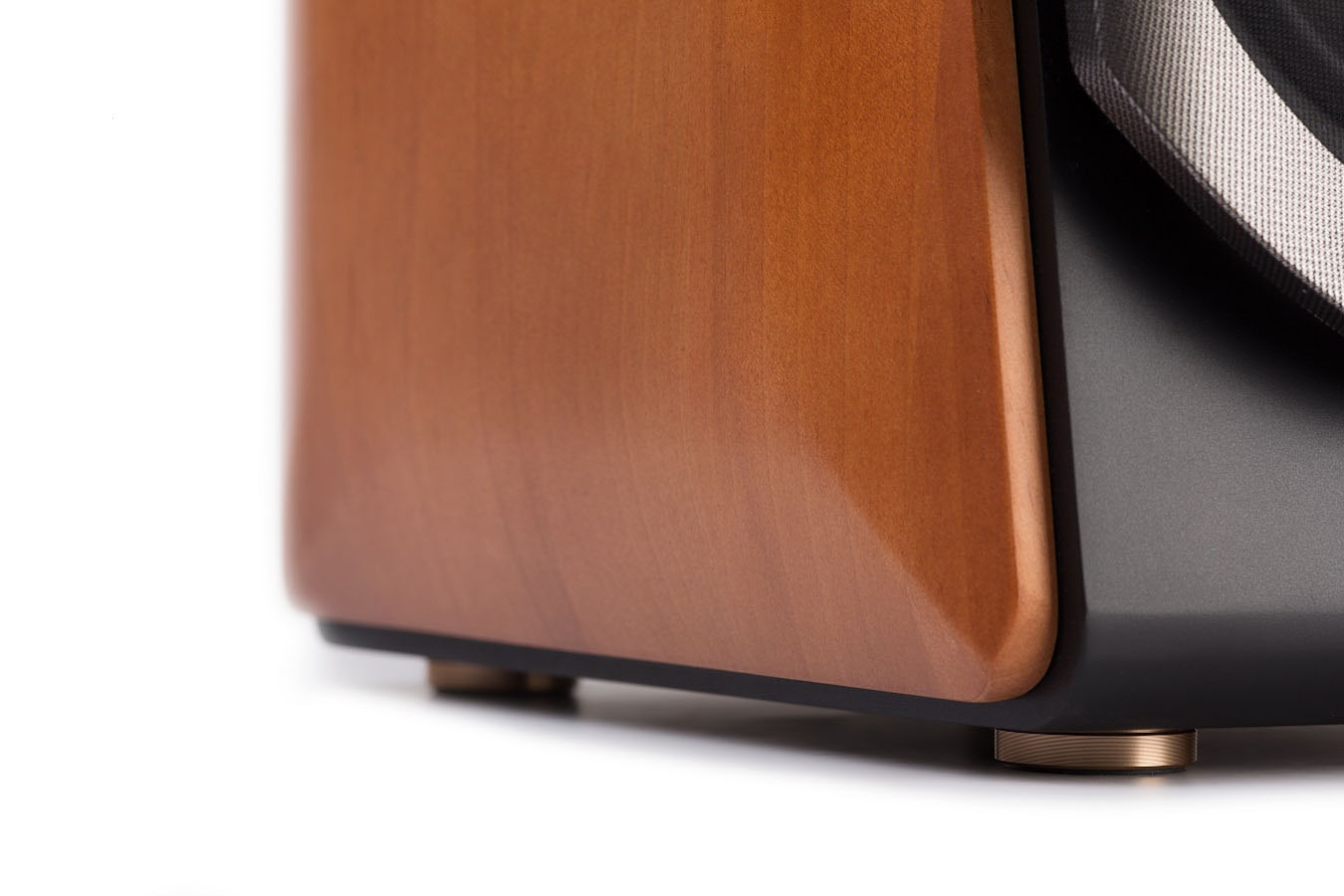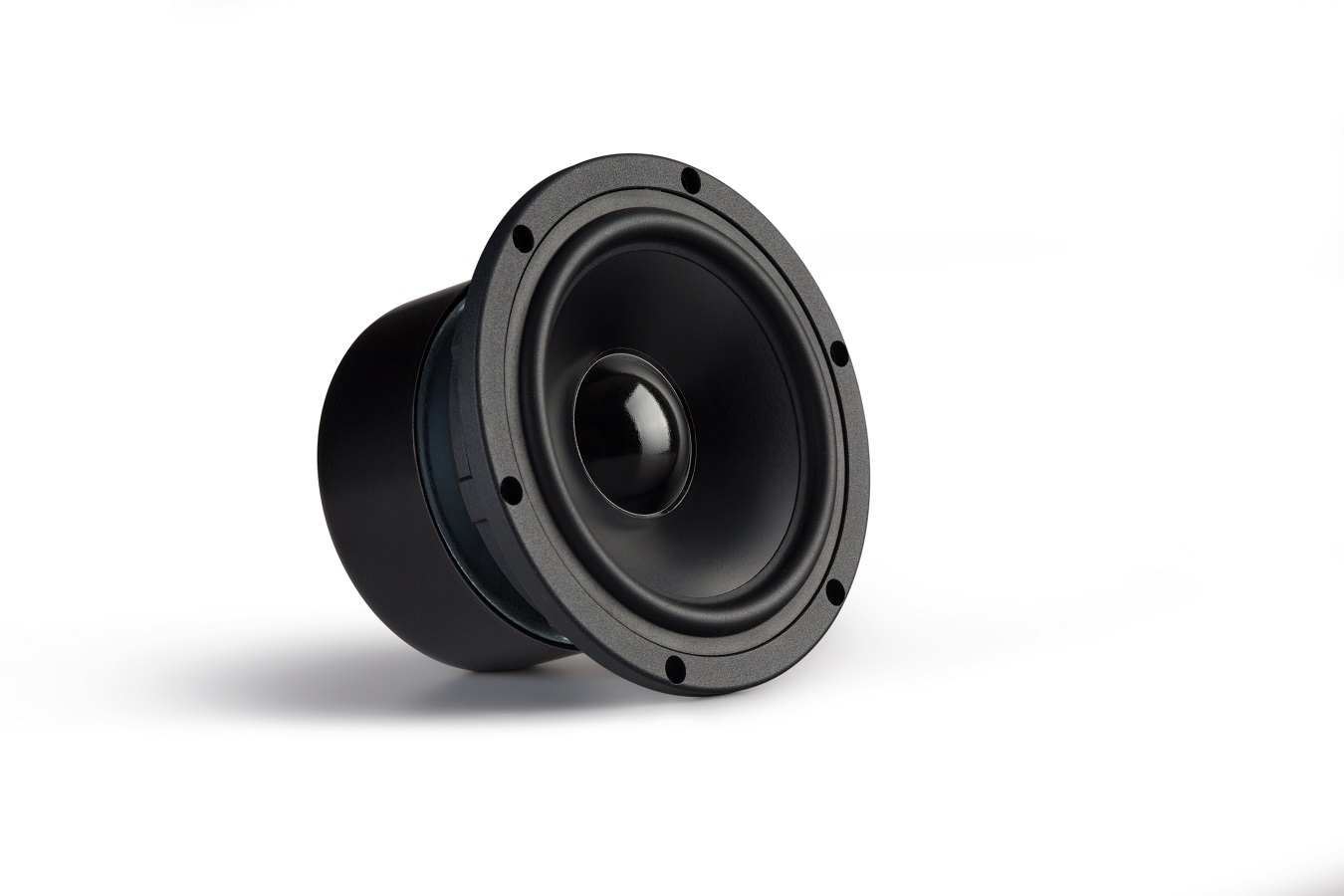 Aluminium Cone Woofer
The high-strength low-distortion from the aluminium cone makes sounds unique and clear. The S2000Pro takes advantage of the DSP digital electronic crossover thanks to the help of German engineering of the KLIPPEL precise analysis system. This system is used so that the metal aspects of these speakers do not emit the sound of metal meanwhile taking advantages of the metal aspects. The energy-absorbing rubber hemming results in giving the 5.5-inch aluminium cone woofer a precise, clean, and low-frequency performance

Digital-to-Analogue and Analogue-to-Digital Converter Signal
The onboard DAC (digital-to-analogue conversion) and ADC (analogue-to-digital conversion) of the S2000Pro has a built-in officially branded Burr-Brown PCM1802 Texas Instrument. The Burr-Brown DAC and ADC uses audio signalling that reaches towards 105dB signal to noise ratio (SNR). The analogue input signal uses traditional HiFi methods that are recognised by WIMA capacitors. This in turn ensures a lower signal loss. As for optical and coaxial inputs, the interface chip, PCM9211 also from Burr-Brown, supports a 24-bit 216-kHz high precision input digital audio signal.

Supports Up To 192KHz Sampling Rate
Edifier strives for audio excellence in all products. All our products need to meet a standard of quality with low distortion audio playback and must achieve a high sample rate. The S2000Pro from Edifier is the epitome of all of Edifier's HiFi audio equipment. The S2000Pro digital audio interfaces with a digital audio signal of 24-BIT 192KHz to meet the needs of enthusiasts demanding signal reproduction.
The S2000Pro does not simply the pursue a high rate signal level. The S2000Pro is designed from the start with low-distortion tweeters and woofers to make a truly system-level "low distortion."
Status Indicator
The S2000Pro comes package with a professional wireless remote control for easy volume control, input select, EQ mode selection along with other operations. Never get up from your couch for audio adjustments again.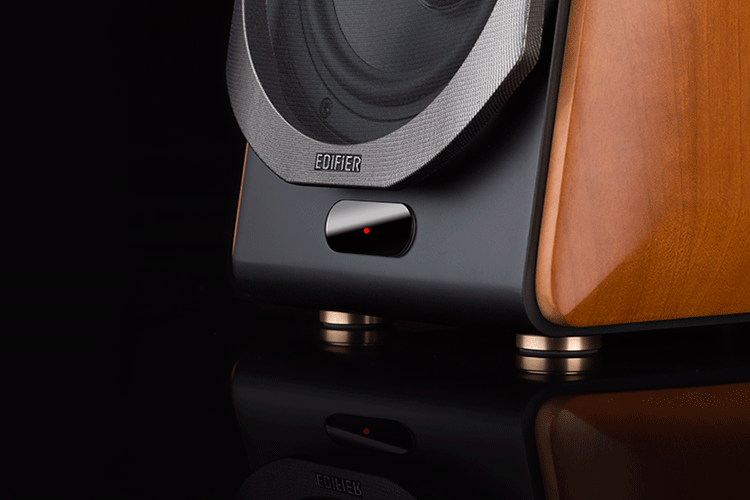 POWER OUTPUT:L/R (treble): 12W+12W RMS
L/R (mid-range and bass): 50W + 50W RMS
SIGNAL TO NOISE RATIO:≤94dB(A)
NOISE LEVEL:≤25dB(A)
INPUT SENSITIVITY:Balanced input: 700±50mV
Auxiliary input: 600±50mV
Bluetooth input: 350±50mFFs
Optical input: 350±50mFFs
Coaxial input: 350±50 mFFs
FREQUENCY RESPONSE:48Hz~20KHz
TWEETER UNIT:Planar diaphragm tweeters
MID-RANGE & BASS DRIVER:5.5 inch (148mm)
DIMENSIONS:505(L)Å~350(W)Å~412(H) mm